Restoring Your Spirit In Ojai, CA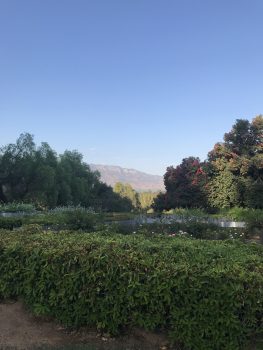 Located only two hours northeast of Los Angeles, Ojai is the perfect small town getaway. Valued for its mediterranean climate, orange blossoms, lavender farms, golf courses and spas, Ojai is a bucolic tourist haven. The valley is unique geographically in that it is positioned east to west, which every day creates stunningly pink sunsets. The land is populated by fragrant chaparral, sagebrush and oak trees. Ojai is also considered by many to be a vortex of spiritual energy. From around 1874 people came to the town in horse and carriage, and later, train to "take the water" in the various hot springs in the area. Today, Ojai remains a place of prominent spiritual appeal.

Ojai's Rich Spiritual History
Ojai means "moon nest" in Chumash. The chumash were one of the first native people of the Ojai Valley. For many years before his passing, local Chumash elder Vincent (Beaver) Tumamait held ceremonies in the valley. He helped preserve the cultural and spiritual legacy of his people, and today his daughter Julie Tumamait-Stenslie continues his work of cultural preservation.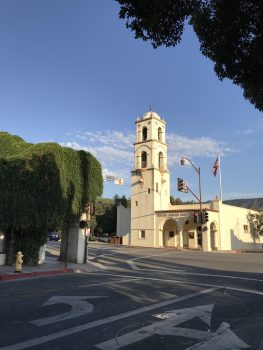 Many artists, intellectuals, spiritual teachers, and seekers have made Ojai their home. Jiddu Krishnamurti created a school and center for his teachings. Dr. Annie Besant(then president of the Theosophical Society, an organization dedicated to the study of Divine Wisdom) delegated land, referred to as the Happy Valley, to be used to promote education that was spiritual, artistic and intellectual. Besant and Krishnamurti, along with famed writer Aldous Huxley and beloved potter and artist Beatrice Wood(among others) gathered together to have discussions and share wisdom. Another prominent spiritual figure to shape the town was the silent(non-speaking for over 40 years) mystic Meher Baba who visited Ojai in 1956. A spiritual center was created in his honor in the mountains of upper Ojai near a giant oak called the "Baba Tree." Today, pilgrims come together to celebrate "divine love and oneness" at his center called Meher Mount.
Where To Explore
Ojai has many locations that offer spiritual restoration. Various spots, like the popular Meditation Mount, have been widely promoted to visitors. Here is a list of some of the most spiritually uplifting locations in Ojai that are off the beaten path.
Krotona- The Institute of Theosophy:
Krotona has been an international spiritual center in Ojai since 1924. The Theosophical Society is "dedicated to the Oneness of all life and to the spiritual awakening of the human family." The lush gardens, beautiful library, and peaceful ponds sit on a hillside just outside of Ojai. The center offers lectures that promote the study of "the ageless wisdom" and provide educational material to students and guests. While visiting, be sure to check out the cozy bookstore which offers a variety of spiritual texts that can be read in any of the gardens on the property. There is also a stone labyrinth for walking meditation and reflection.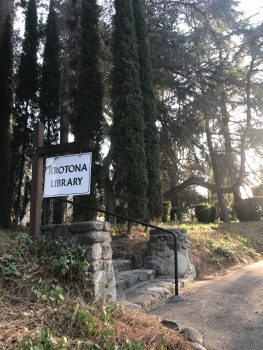 Beatrice Wood Center for the Arts:
Beatrice Wood, also known as Beato, was a famous ceramicist known for her revolutionary glazing techniques. She was a part of the avant-garde Dada art movement in the early 1900's, and was recognizable with her colorful saris and fiesty intellect. She lived to be 105 years old. Today you can see her work at her studio on Besant's Happy Valley land in Upper Ojai. Her work is representative of her whimsical and spiritual approach to life.
Jiddu Krishnamurti was a influential educator, philosopher, and spiritual teacher who made Ojai his home base, beginning in 1922 until his death in 1986. He authored numerous books and traveled frequently to give talks on his unique philosophy. His teachings were prolific and covered a broad scope of topics: he spoke on truth, understanding the human condition and the need for a radical change in the human species. In his lifetime he founded nine schools dedicated to holistic learning, one of which continues to flourish in Ojai. Today the Krishnamurti foundation has locations all around the world. One of the most hallowed and prominent centers is in the East End of Ojai, at the house where he once lived, surrounded by orange and avocado orchards. Various programs centered around his teachings are offered there, including Saturday evening dialogues on the first, second, and third Saturdays of the month. Visitors are welcome to stroll the grounds, explore the library or book a room for the night at the lovely Pepper Tree Retreat.
For many years these wild hot springs were open to the general public. Trashed and misused by visitors, they were eventually purchased by a group of Ojai locals interested in stewarding the land. Today, they are more pristine than ever. For a small fee you can visit the hot springs, tour the land and receive something from the garden. Soaking in these ancient pools under the stars is a truly exquisite experience.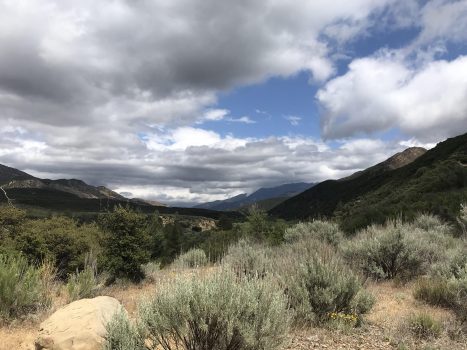 Mountains and Rivers:
The most mystical aspect of Ojai is the land. The Los Padres National Forest offers numerous opportunities for hiking and backpacking. In the winter the small rivers fill with emerald water and the mountains awaken with the smell of sage. Matilija Canyon is one of the areas to explore that offers natural pools and various hiking trails. The Ojai Hot Springs are also located on Matilija Canyon road and it is especially nice to have a soak after a long hike.
Longtime local resident and author of the hiking guide Roam, Gael Belden shared that "There's a power and presence in this dry, raw land still populated with bears, mountain lions, coyotes, and other wild creatures that's not found in any other place that I have lived."