Have you ever looked back at a time in your life and thought, "How did I do that?" It could be something small or big, good or bad, or happy or sad. We are constantly evolving as humans, and as we grow up things that once seemed so easy may now look difficult, or things that seemed exciting might look scary. I used to do flips off of the high bar at my elementary school—now I work at an elementary school and see how dangerous that was. Perspective shifts. It's a part of life. 
Reflecting back on my life five years ago, I wonder, "Who was that girl?" I was twenty years old—not yet an adult, no longer a child. I was at that awkward time in life. I constantly dissected every choice I made. I agonized over my future career and my path in life, all while feeling very much alone. I was still processing trauma from my childhood which, despite starting off like any other, was not easy. I grew up in Santa Barbara. My mother was a nurse and my father had his own construction company. I am the oldest of three children, my sister is four years younger then me and my brother is two years younger then her. When I was thirteen, I woke up one morning to the startling news that my mother had succumbed to her mental illness. She commited suicide. My father was never the same after. He withdrew from the emotions of life and turned to alcohol as his only savior. For the next several years, I believed it was my responsibility to care for my younger siblings and be the perfect child. Until my father met a woman who felt that I was too old to be living at home and taking care of my siblings. I moved out and became overwhelmed by school, bills and working. I felt lost. 
In my second year at Santa Barbara City College, my grandmother passed away. She had battled cancer for years. She wasn't ready to leave this earth, but her body could no longer continue to fight. She was my rock and foundation early in my life after my mother passed. My grandma was the toughest woman I knew. She told you how she saw it, good or bad, with strong confidence. She was also the most caring person I knew—she would look after my siblings and make us dinner, check our homework, and read us stories. Although I saw her time coming to an end, I never could have seen how hard it would hit me. I was not okay. I didn't know when I would be okay again, or how. I was living in a horrible apartment and had made some irresponsible decisions regarding school. I questioned my purpose and what I wanted to do with my life. I felt like days were passing by, but nothing was being accomplished.
Everything changed one day at my grandma's house shortly after her passing. My family and I were cleaning out the house to rent it. During a much needed break, my aunt's childhood friend was casually talking about how his daughter was living in Germany with a family as their au pair. I had no idea what that was, but he explained that she was a nanny who helped take care of the children while the parents went to work. "She absolutely loves it there. I don't know that she'll be coming home anytime soon," he said. I was mesmerized by the idea of living somewhere else, not knowing anyone around me, and having a new place to explore everyday. I had been taking early childhood education classes and knew that I enjoyed working with children. Suddenly, I started to wonder if this was something I could do. 
That conversation stayed with me for weeks. One morning, I woke up at around 4:30 am in complete darkness and utter silence. I had an idea. I opened my computer and researched "Au Pairs" and how to become one. I set up a profile on Au Pair Word by inputing my age, education level, experience with children and other qualifications. I uploaded a happy picture of myself and talked about my experience as a junior lifeguard, my career as a softball player in high school, and my love of adventure. I talked about how I thought I wanted to be a preschool teacher and described all of the classes I had taken at Santa Barbara City College. I submitted my profile and closed my computer. The light from my computer had turned off and my room was dark once again. I fell asleep and imagined myself in a new country. 
The next day, I had over thirty emails from families all over the world requesting more information about me and wanting to schedule times to video chat. I didn't respond. I was too overwhelmed by the decision I had made at five in the morning when my brain hadn't even comprehended sleeping versus waking. My account was frozen because I had too many unanswered messages. I let the possibility of really making a life-changing decision sink in while I contemplated what moving out of Santa Barbara would be like. Could I uproot from my family, friends and school to pursue an adventure that felt so unknown and extravagant? 
A month went by and I received a text message from a woman, a single mom with a love of traveling I had previously babysat for. She asked, "Would you be willing to travel to New Zealand with me so that I can attend a yoga retreat? You would watch my son, but also experience a couple of weeks traveling from the north island of New Zealand to the south island." She confided to me how she didn't want to go alone with her young son. She emphasized that this opportunity would be a help to her as well as an enriching experience for me. I exclaimed without hesitation,"Yes!" She quickly booked my flight along with hers and we planned to leave in a month. I began exploring the concept that if I flew across the world for this opportunity, I could potentially stay there to find more families to work with.  
And that is exactly what I did. I reactivated my account on Au Pair World and I decided my destination would be Australia. Sydney, Australia had always been a dream of mine to visit because of my name. I narrowed my choice down to the two families that I enjoyed talking with the most. One family allowed me to connect with their previous and current au pair, and they both explained that the family is very loving and generous with a beautiful house just outside the city. They told me about all of their experiences exploring Sydney and how easy it was to make friends.  I knew this was the family that I wanted to live with. 
I started the process of leaving Santa Barbara by sharing with my family my plans to live in Australia for six months to a year. They knew it was a great opportunity, but it didn't stop them from asking,  "Is this real?" and "Sydney, are you sure?" To all of their questions, my answer was yes. Just like that, in one month, I moved out of my cigarette smoke-filled shared apartment, filled out the working/holiday visa application, gave my sister my car and made sure I had everything ready to leave the United States. I did all of this not knowing what to expect. Not knowing that this journey would help me grow as a person, become more independent, and help to expand my mind.
I met the most wonderful family that I will never forget. We went camping on an island in the middle of the Sydney Harbor, we went trick or treating together for Halloween, and they gifted me a trip to scuba dive at the Great Barrier Reef. They showed me all around Sydney and made me feel like a part of their family. Whenever I was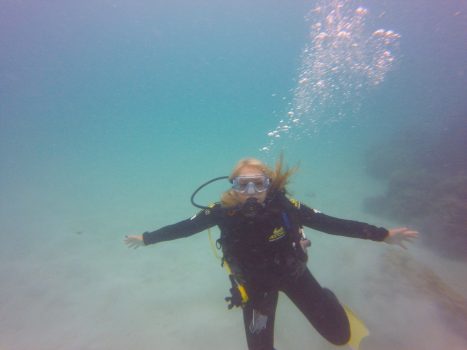 having a rough day and missing my family in California, I knew I could talk to them because they understood and were very caring of my feelings. I met my best friend, who was also an au pair from Denmark. We bonded over our love of spontaneity and adventure. We went on many weekend adventures outside of Sydney with other au pairs. We kept each other in good spirits when we had tough times. The homesickness felt more bearable because we had each other, and it helped to talk with people that understood. And now, five years later we are still as close as ever and only a phone call away.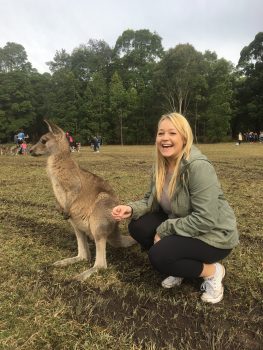 What if I had said no? What if I stayed in my horrible situation in Santa Barbara? Who would I be? I'm glad I don't need to find out the answers to these questions. I went with my gut and did the craziest  thing I could have done. My 'Sydney' experience created stories that will last a lifetime and I don't regret one moment of it. I found myself. I discovered my love of adventure. My love for fun and my passion for true excitement and spontaneity. I still can't believe I did it. I went from a bland and mentally destructive routine to living out my dreams and never looking back. I am stronger and more resilient because of it. 
Since returning to Santa Barbara to be closer to family. I have found my passion for learning once again and received my AA from Santa Barbara City College in Liberal Arts with an emphasis in Early Childhood Education. I then applied to Antioch of Santa Barbara in early 2020 with the intention of achieving my Bachelors and entering the Teaching Credential Program to become an elementary school teacher. Although things have changed along the way, my goals have not. I will accomplish all that I put my mind to because I took that leap of faith and it made me realize that there is so much more to life than feeling stuck in an unhappy situation. Take the chance!