Off-Road Motorcycle racing pushes riders mentally and physically for over 1.5 Hrs as they battle their way to the checkered flag.
Every time an off-road motocross racer puts a leg over that dirt bike, they are accepting the fact that anything can happen. Racing Off-Road across the desert reaching speeds of over 100 MPH requires a lot of focus, mental stability, confidence, strength, and skill. It is a sport that can bring so much satisfaction and excitement when goals are being met and when all of the training and practice reflects your performance in the race. A lot of people think that racing motorcycles is easy and that you just sit there and twist the throttle. Little do people know that motorcycle racing is one of the most physically demanding sports in the world.
As 2017 is getting underway, I was very excited to be racing in the Expert/Pro class for a variety of races and race series here in the U.S. and Mexico. The Expert/Pro class for the Big 6 series is made up of some of the best off-road racers around. I definitely have my work cut out for me. It is very important to be consistent and do well in each and every race, and there are some tactics that I needed to use in order to be in contention for the championship. Many factors play a part in making a race successful. Not only do we as riders have to be in top physical shape, but we also must keep the motorcycle maintained to perfection. Anything can happen. A small bolt overlooked could cost any rider the entire race. If all the stars align and I have a successful weekend, it is one of the most rewarding feelings I have yet to experience.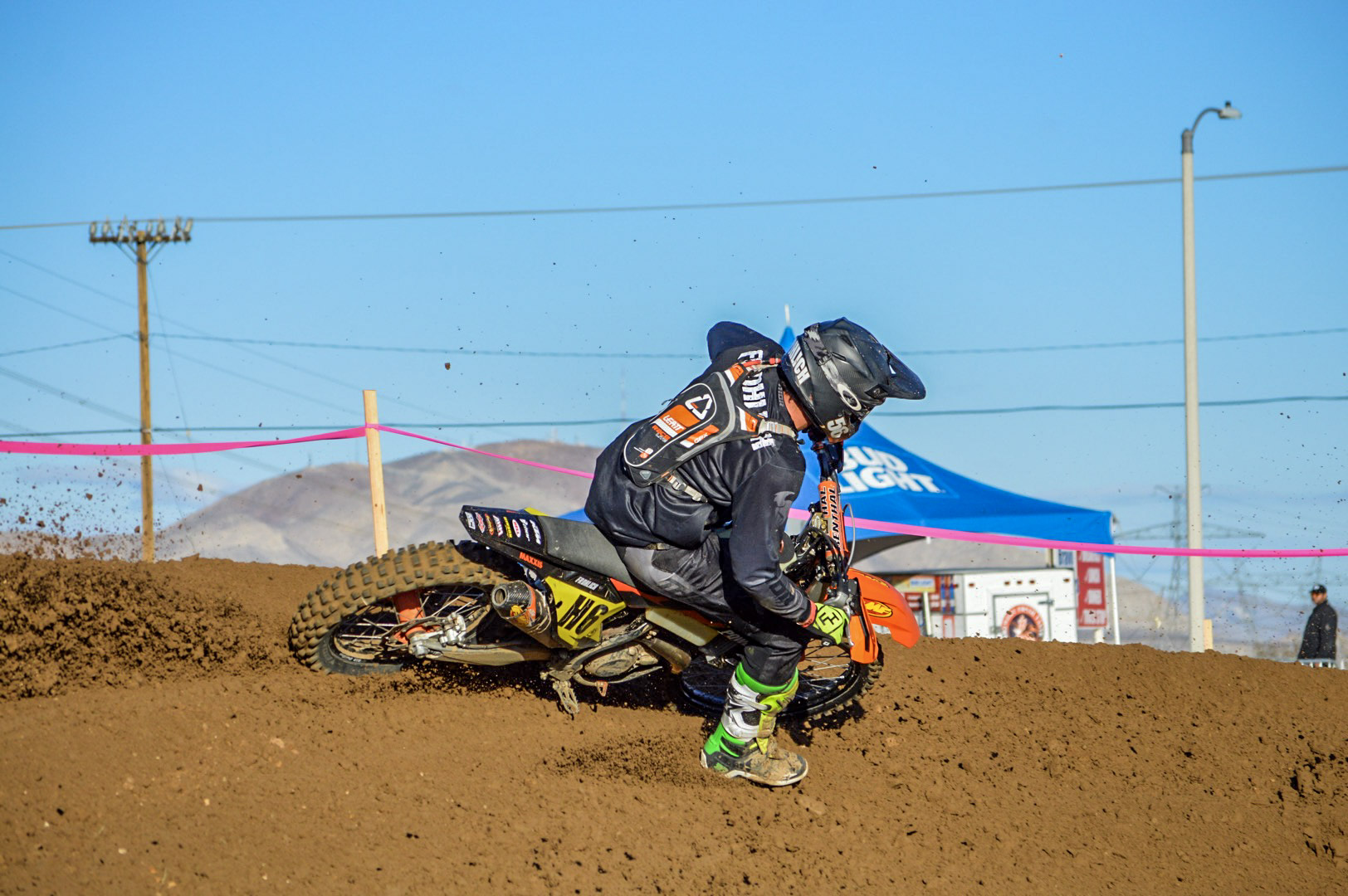 The opening round of the Big 6 series was in Adelanto, California. Adelanto is near Highway 395, in the middle of the desert, and with all the rain that we have been getting, the sand out there was expected to be perfect. No dust, just a bunch of fast, good corners and jumps set up for some great battles. The Big 6 series has all different types of classes for all ages and skill levels, but the last race of the day is my race. At this point, motorcycles have been hammering on the track on all day long and it becomes dangerous because potholes are formed by hundreds of motorcycles throughout the day.
The Big 6 series is one of the most competitive off-road racing series on the west coast. Thousands of people, from all over come to compete in the versatile terrain. The series is a total of eight races; and it is a battle of blood, sweat, and tears all the way down to the end. Even though we all respect each other as racers, we are there to win, and once we get on that dirtbike and line up next to each other, we put our friendships aside.
When we are sitting on the starting line, we know that we are about to put ourselves through an hour and half of torture. All of our training is going to show us where we stack up against the other riders. As they throw the flag, the race is underway. I am off to a great start. I quickly notice that the course is extremely beat up, worse than I expected, and I know that it is going to be a long 90 minutes. A few turns later, a couple of riders that are in front of me are all tangled up in each other on the ground. There are flaggers running from all directions towards them. I take a mental note as I fly by. I need to be careful and not push it too hard because this is going to be a long, rough race and an even longer series. As I came around for my second lap, I notice that they are still down and that it is something serious.
At a certain level in just about any sport, it takes a lot for someone not to get up. Even if they are in pain, they push through to finish. Mistakes happen, and in order to get to the top level in our sport, at one time or another a mistake is going to be made. It only takes a split second for a small mistake to turn into six months on the couch recovering. When racing at these speeds, in this type of rough terrain, generally any crash is not going to be good.
It takes a lot to red flag (Restart) a race. It also hasn't been done in a long time. As we all get pulled off the track on the third lap we are informed that Preston Campbell had a bad crash at the start of a race. This is where all of the riders are trying to get out front early and battle for position. The race would restart Sunday morning because it is too late, and the sun was going down. We would start at 7am in our current positions ,but the course is going to be completely groomed over throughout the night, making it a lot faster. Later on that night, we would find out that Preston had broken his femur, some ribs, and suffered severe bruising all over. He is going to be in the hospital recovering for some time  before he can start his recovery at home.
This was another eye opener for all of us. Motorcycle racing has a very tight knit community. We all know, or know of, each other, and even though we are all fighting for that number one plate, the last thing we want is for anyone to get hurt. Unfortunately, in our sport, it isn't a matter of if, it is just a matter of when you are going to hit the ground. The love for the sport is what keeps us all coming back for more. While sitting there on the starting line, with tons of people staring at you, wanting to see how well you do, a nervousness sets in that lasts a few seconds, but will be remembered for the rest of our lives. The fans and sponsors see all of the behind the scenes work that we put in in order to do well at the races. Everything from going to the gym, practicing at the track, to eating well and motorcycle maintenance. We don't want to let down the people  that believe in us and help us get to where we are, so, on race day, we bow our heads, say a prayer to whomever is listening, and prepare to battle for the next hour and a half.