Behind the scenes: SB Dance Arts, not only a dance school, but also a home.  An article about sisterhood, big dreams and great passion
The nerves are the worst. As the days, hours, and minutes counts down you can feel how they spread in your whole body. They take control of your brain like thick fog, they minimize your urine bladder and they question every move you're about to take but most important- they triggers you with pumping adrenaline until you can't stand still.
When you're out on the floor in the spotlight, and your heart is beating fast to the music, you just have to let go and trust you body to do the work, even if it feels like it's against your nature. That's the magic everyone talks about – the disconnection, which makes you feel fully alive and present, a feeling of being in the "now", – it almost is an addiction.
The SB Dance Arts and Arts Mentorship Program Performing Arts Center invited me this Sunday for their Annual 9th Student Showcase. As writer with a background in dancing there were nothing that could stop me from being there that day.
The Santa Barbara Arts centre itself is a local dancing spot and a second home for a lot of kids, teenagers and adults in the community. The owner Alana Tillim partnership with the non-profit Artist Mentorship Program (AMP) is together working hard to provide scholarships for future dancers. In order to raise money the kids and teens are doing fundraising through cookie sales and dance shows.
I had the pleasure to interview Kelby Pintard 16, and the twins Anabel and Charley Goldstein 13, which are three well-trained dancers.
We talked about how they got into dancing after being inspired from their older sisters and what the best about dancing was. We all agreed that part of being able to express yourself and to disappear into a role or a feeling, definitely was the best part along with the therapy that comes with it.
The girls told me that they only had danced at SB Dance Arts and today the centre it's a big part of their lives. They told me that the centre had been their second home and through the centre's sister program it connects the students and fight against the competition and rivalry part of the sport that otherwise appears between girls.
Kelby describes passionately how the sister program works like sponsors and how it definitely helps everyone and brings togetherness and a family spirit to it. We all can agree that being a girl in her teenage years often includes many difficulties, and to have supportive people around you who know what you are going through helps a lot.
As we sit there talking about the power of dancing it hits me that these girls are still young in age but their mind and drive are advanced compared to others in their age. It feels like I'm listening to small adults while they talking about their future plans for life and it leaves me shockingly impressed.
We talk further about the show and how excited they are. Charley and Anabel tell me about their successful cookie-sell and how they manage to sell so much. They talk about their strategies with networking through their parents, but I believe that their cute faces and their burning dedication that surrounds their aura is the true key of their successful selling.
The show itself was just as fascinating as the interview with the girls. I got to see lots of different dance genres: contemporary, ballet, hip-hop and jazz. They danced both funny pieces with an overflow of attitude and entertainment but also heavy stories of betrayal, bullying and romance. They danced both high and low, solo and in groups and no matter their age- they knew exactly how to work the floor with both emotion and attitude.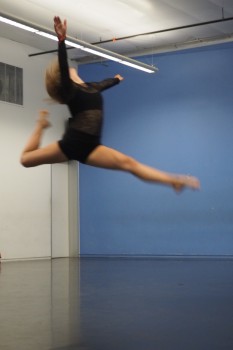 The last number, which is known for always being something extra, definitely delivered through a feel-good number like no other. I bet the entire audience stamped their feet and clapped their hands to the beat of music and smiled like they never known how to do anything else.
Anyone can dance, learn the techniques and pull off a show. But to dance with your heart and to communicate and transfer emotions to your audience is the skill of a true dancer and that only comes naturally from the passion in your heart. It doesn't matter what schools or roles these girls will be apart off in the future – they already have the most important part in their career, and I'm moved to see such talent in front of me.
When I walked home that day, I walked with a smile on face because I was reminded how we can create beauty by only moving our bodies, and how we can inspire and touch people through a language that can only be seen. – A nice reminder that there is so much beauty and compassion in an otherwise "cold" world.
Read the second piece about Santa Barbara Dance Arts here.