Surround us with sunflowers, eat all the cake, listen to music, and then bring me to the ocean.
I'm twenty eight and healthy, but I just planned my funeral. So often I see families and loved ones struggling in a moment of crisis following the death of a loved one. This is avoidable. We spend our lives caring about the people around us. The best way we can love them in our death is by making preparations, and having the conversations around death that so many avoid. The more we talk about something the less we might fear it.
The first death I distinctly remember was my paternal grandmother when I was six. Since then I have experienced a lot of death, ranging from slow and prolonged disease to the gentleman who collapsed and died feet away in the produce aisle. I have had a family member exercise her right to an end of life prescription after a long battle with lung cancer, and I have watched friends decline on hospice. One thing is always the same, no one was fully prepared. Now, I do not mean emotionally prepared. Loving someone means you will never be prepared to lose them. I mean talking about the preparations to handle the body, or hold the funeral. Do you know that you could keep your loved one's body with you (either in your home or at a facility) until you are ready to say goodbye? Did you know that you can be an active part of preparing your loved ones body for burial? Jennifer Parks, Funeral Director at McDermott-Crockett & Associates Mortuary said that the most beautiful part of her job is when families want this kind of involvement. She shared with me her incredible experience helping a mother wash her baby boy one last time, and then put him in his pajamas before his funeral service. We can love loudly, and care in death as we did in life.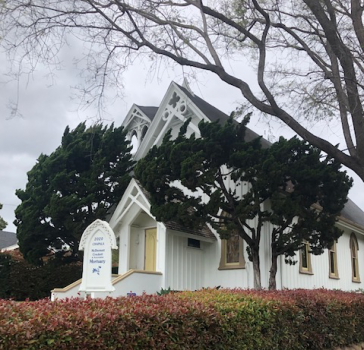 If you, or a loved one is dying, and dies in Santa Barbara, you will most likely find yourself cared for by an incredible array of some of the strongest women I have ever met. Whether a dedicated hospice nurse, the socially conscious bereavement counselor, or the loving funeral director, everyone I speak to and work with in this field embraces the connections made with strangers.We hold hands around someone at the end of their life.
In this field what upsets me more than anything else, is the number of people who die alone. Hospice of Santa Barbara, Visiting Nurse and Hospice Care and nine care facilities have partnered to create a pool of well trained and experienced volunteers who will sit vigil with someone in the last days, or hours of life.
Typically, the facility, social worker, or nurse will call the volunteer department at either organization to initiate the volunteer shifts. This program speaks volumes about this community of caregivers, and I feel lucky to be a small part of it. Sitting vigil, holding love and peace in that sacred space for the first time was an experience I will never forget, and will continue to inspire the work I do for a long time.
Many cultures believe that a soul cannot depart the body unless a window is opened to allow it to leave. A very experienced hospice nurse told me the other day that every time a patient passes she opens the window. She can no longer count the blinds that have rattled or the curtains that have blown apart during this ritual. It does not matter what you believe will happen after, or even how much you do not want it to happen. We cannot avoid death, but we can start these conversations with our loved ones. And, when the time comes, I promise there will be beautiful people here to hold your hand.