What if I told you it is possible to reach inner bliss even on a short notice?
Imagine resting your weary back against soft pillows as you sip free herbal tea served on a fancy platter. As you relax, you're gazing at a lily pond with dragonflies and butterflies dancing and skipping across its colorful surface.
Imagine your worries melt and the busyness of the world disappear as you escape into this secret, lush tropical paradise burgeoning with green plants, colorful flowers, gushing waterfalls, and babbling brooks. You are surrounded by singing birds, hand-carved deities, gems, crystals, jewelry, incense, and a multitude of books waiting for you to open their pages.
What if I told you that this rich, vibrant spiritual paradise is within your grasp and that you can reach the grounds without killing your wallet or draining your gas tank?
How does a busy, preoccupied student like me come upon such unexpected richness? A bladder ready to burst. I could perhaps give thanks to the habitual, numerous cups of coffee downed over the day's span at school. In any case, I am hurtling down the 101 desperately seeking a bathroom. I am in a hurry. I am always in a hurry. Hurry is my memorandum operandi.  My bladder hurts. My head hurts. My heart hurts. My anxious heart is knocking and wailing around in my chest, egged on by the thoughts of having to drive for another hour before I get home, for having to finish three papers by next week, for having to reply to responses on Sakai, for having to stop to get cash to pay my daughter's sitter, for having to pay the bills stacking up on the kitchen table, and for having to complete the chores waiting at home and at my internship site.
My bladder hits the boiling point. I veer off the 101 in Summerland and drive down Lillie Avenue. I hit the breaks. My jaw unhinges and drops into my lap. My Hyundai comes to a sudden halt in front of two massive stone statues flanked by trumpeting elephants.
Moving past the imposing welcoming committee of gods and pachyderms, I spot an "open" sign in a small window and follow the path shrouded in greenery, bamboo, fern palms and pass majestic stone deities guarding the temple-like opening.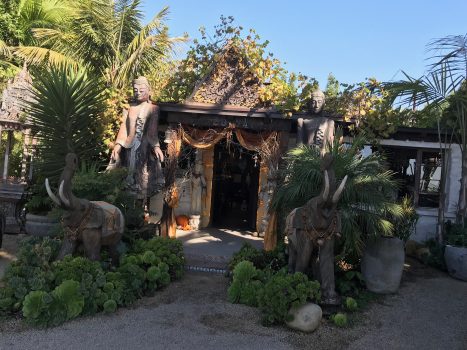 "Oh, welcome," a voice sings out as soon as I step over the threshold. "Welcome to the Sacred Space."                                        Spiced, peppery incense fills my nostrils and my vision opens up to glittering crystal pendants, smiling well-fed Buddhas, bowls of white, purple, and black rocks, bookcases with colorful spines of interesting-looking books, and tall decorative candles.
"Please feel free to explore and wander around." The middle-aged woman smiles and finishes wrapping gifts for a customer. I feel like a welcomed, dear guest and for a moment I forget my pressing needs. Another woman dressed in white garb drifts in from another room. "Welcome. Would you like a cup of tea?"
If not for the toilet, the bathroom could easily pass for an impressive prayer or meditation room. An applique sign draped over the dark, ornate wood door greet the visiting needy about the importance of "Loving Kindness" and that "we are dependent on the kindness of others." The visitor is immersed in the soft embrace of antique furnishing, plush textiles, ornate rugs, burning candles, and vases of fresh cut flowers. Lights frame the mirror in such a soft and gentle way, one's reflection looks happily surprised. The visitor leaves not only feeling a great sense of relief but feeling enriched by the encounter as soaps and lotions leave potent aromatic scents transcending time and place.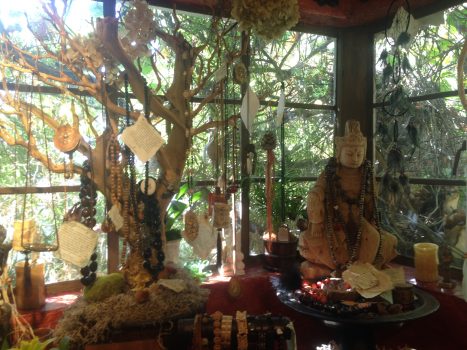 As the pressure of the external and inner world suddenly vaporize, I decide to stay and explore for a bit. I linger by a jar filled with thumb seized deities, rub my nose up against a packet of "Heavenly Incense Sticks," and dip my fingers into a bowl of rocks. The rocks feel cool, almost silky. For a few dollars, I can bring a handful home. "There you are," The woman grins holding a tray covered with cups of steaming tea, a vase of fresh flowers, and a bowl of the prettiest pieces of sugar cubes I had ever seen. "Would you like to take your tea in one of the gazebos outside?" There is an outside to this place?
I tote behind her as she leads me on a path covered with greens and tropical flowers. We pass by a bubbling brook, a flowering lily pond, and a gushing waterfall. We walk over a wooden bridge and climb into one of the gazebos overlooking the garden spectacular.  "This is a place of silence," She whispers.  "People sit here to meditate or write in their journal. We welcome your thoughts in ours, or if you have your own, please feel free to write." She nods in the direction of the journal resting next to a large leatherbound book on the coffee table. She puts down the tray, smiles and waves goodbye. A kind note reminds the meditating tea drinkers they have twenty minutes before giving the space to another guest.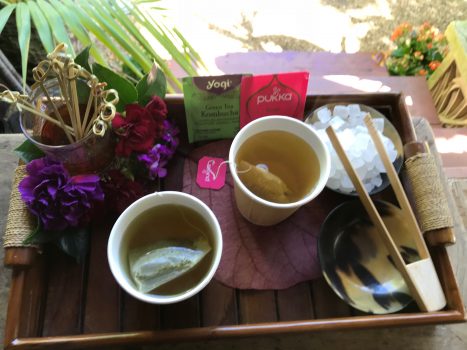 I lean my back against the soft pillows. A blue dragonfly skips and dips across the lily pond, a meandering Monarch butterfly tease and kiss a blushing flower, and the palms sway gently in unison. I drink in all this beauty. I feel my body settling in, the warm tea warms my insides, and my heart beats slowly in gratitude and relaxation.

I pick up the leatherbound book and start reading about the owners Rose and Jack Herschorn. I look at "before and after pictures" showing a pale, sagging house sitting upon a depressing-looking dirt lot.  The property went through an astounding transformation.
"We've taken many trips to Asia hunting for treasures that are unique, rare, have history, religious, or related to personal growth. Our items have special conections to us and their purchasers."                     — Rose and Jack Herschorn
Read more about their fascinating story here: www.thesacredspace.com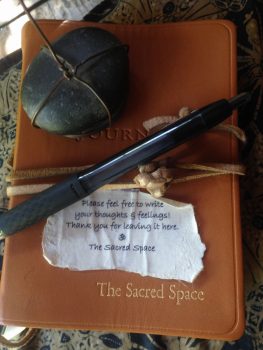 The Herchorns wanted their guests/customer to have an experience, to inspire awakening, and to find peace. I take it all in. All this vibrant beauty. All this kindness. I feel embraced, seen, rested, and refreshingly energized. Ahhh, I am ready to take on my world again.
Ready to trade in your worries, anxieties, and stress in for an experience that can restore you to peace and infuse your senses with awe and wonderment?  You may want to take a trip to The Sacred Space…
                                                                                                                      2594 Lillie Avenue
Summerland, CA
Open 11 am-5pm Every Day
www.thesacredspace.com