On Sunday, October 19th, students, professionals, and music lovers gathered at The Funk Zone in Downtown Santa Barbara for the New Noise Music Festival's annual closing block party. After a morning of panels hosted by some of the biggest names in the music business, attendees spent the afternoon enjoying food, drinks, and live music.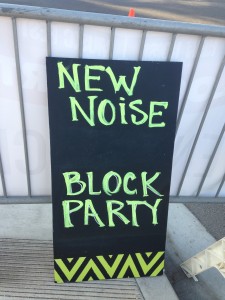 During the morning conference panels, Kevin Lyman, creator of the Vans Warped Tour, talked about what it's like to be an entrepreneur in the rapidly evolving music industry. Bud Carr, Music Supervisor who has worked on major motion pictures such as The Doors, also spoke on the panel. During his talk, Carr gave the audience hints on how to break into the music business.
Now to the Block Party: a diverse crowd of close to 200 people filled the Funk Zone for the event, which drew a wide range of people. College girls wearing bell-bottoms and flower crowns mingled with young parents and middle-aged men in Hawaiian shirts. It was interesting to see the diversity of attendees while realizing the common draw was the music.
The Block Party featured a beer garden that offered local beer and wine options and plenty of food trucks that offered a variety of choices including a taco stand and organic pizzas from wood-fired ovens. Perhaps the most interesting technological aspect of the afternoon was the "Silent Disco," which allowed people to dance to music transmitted through wireless headsets- this allowed festival goers to listen to the DJ's set throughout the grounds.
As people started trickling in in the early hours of the afternoon, pop-synth local band Mango- Mango played a short set followed by another synth group called Ghost Beach. As the day progressed, more pronounced bands hit the stage such as The Pains of Being Pure at Heart, an indie pop band that's gotten to grace the stages of Coachella on multiple occasions.
At around five in the evening as the sun was setting, Isla Vistas own little celebrity band entitled "Fmlybnd" hit the stage. The crowd was almost triple the size it had been before. Everyone was cheering, dancing, and singing a long. They loved it. Finally a little after seven, the headliners, Cherub, were set to come on stage. The electro-pop duo came running out singing along to R-Kellys "Bump N' Grind" which the massive crowd went absolutely nuts for. As Cherub struggled to properly set up their equipment, the crowd kept up singing "I don't see nothing wrong with a little bump n' grind", and having a great time. Once they finally got situated, Cherub played a full set that had people singing, dancing, and even crowd surfing well into the night.