Italy Rushes to Save Lives from the Rubble, but will the Rubble Continue to Fall?
Yesterday at approximately at 3:36am (9:36pm PCT) a very devastating earth quake with an magnitude of 6.2 hit just 100km outside Rome, demolishing hundreds of historic homes during the people inside it making the current death toll at 241 people dead from this tragic event.
Rescuers believe the dozens more survivors are still trapped beneath the rubble of the once magnificent towns of Amatrice, Accumoli and Pescara del Tronto, in mountainous central Italy. Their hopes is to save as many lives as possible, but to what end? Will these people be displaced into just as unstable homes as they were before?
At the epicenter of the catastrophe, the once beautiful town of Amatrice is now half rubble and will more than likely never be fully restored. It's towns people have lost a great deal of history and ones they love. With a rescue crew of more than 4,300 excavating the rubble, Amatrice is still very dangerous and is in a state of evacuation and evaluation. Many of these historic towns have very old buildings made of stone before there we building codes and reinforced concrete. seismologist Leonardo Seeber in a Washington Post article about the quake speaks to the unfortunate predicament these mountain towns are in when he says, "It's tragic because these towns are like jewels."
Italy as a country is vey prone to earthquakes as major fault lines spine up the entire center of country. Johnathan Amos's of BBC report says, "Scientists say this is contributing to extension, or "pull-apart", along the Apennines. This stress is compounded by movement in the east, in the Adriatic."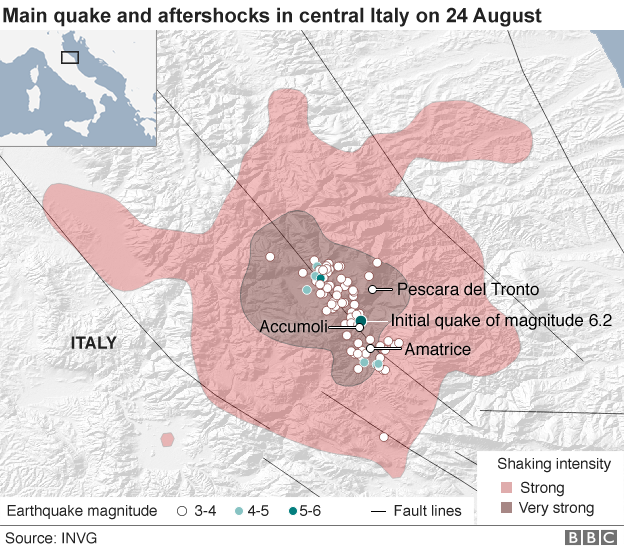 Prime Minister Matteo Renzi will spoke Wednesday about their great loss and empathy for the families for their loved ones lost and vowed that the government would quickly start to rebuild from the rubble.
Italy is in a very difficult position when it comes the their rich history and wealth in culture and landmarks, but it's civil duties to its people with its geographical instability may force Italy to rethink it's architecture and the reinforcement of older infrastructure. What will be the fate of these "jewels" in the hills and will the government be able to act to prevent more loss of life.