Perfectly positioned in the Santa Monica Mountains, it has become the place to be on a sunny afternoon during the weekends. Malibu Wines is so much more than just a vineyard and tasting room. This hidden pearl which is located in the hills above Malibu has redefined the meaning of social wine tasting. Malibu Wines is not your average tasting room, with its open field, live music and good picnic opportunities; you can't seem to go wrong with this place
Most weekends you see the younger generation visit this place all dressed up and ready to enjoy a nice afternoon. With their floppy hats and long dresses, you can spot them sipping their wine and showing off their dance moves to the live band that plays in the background. Although this is a tasting room, a lot of people seem to come just to enjoy the nice atmosphere. After visiting this place a couple of times you will start to slowly notice that people do not so much come for the wine itself. The quality of the wine does not reflect the level of the social  atmosphere. So why do people like this place so much?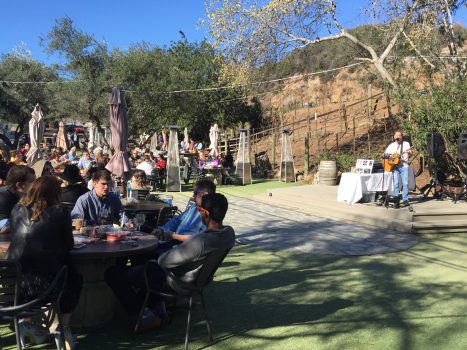 The atmosphere rather than the wine.
Lara and Coco drove from Santa Monica out to Malibu for the day to celebrate their friend's birthday. They have spent many Saturdays at Malibu Wines. Lara, 30 years old, loves the vibe that the winery has, "It just has a really chill vibe. What I like so much about this place is that you can have a large group and still come here without necessarily having reservations." When asking them what they thought about the wine they chuckled, saying "We are not huge on wine in general, but I do not think that the quality of the wine is what creates the attraction of Malibu Wines. I think people come here for the atmosphere rather than the wine itself."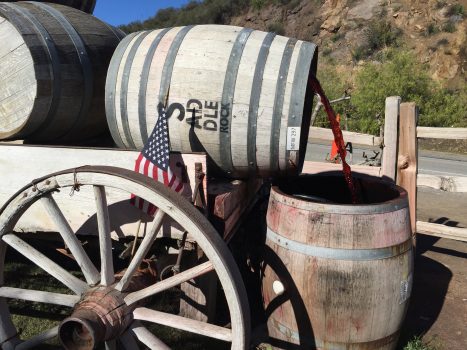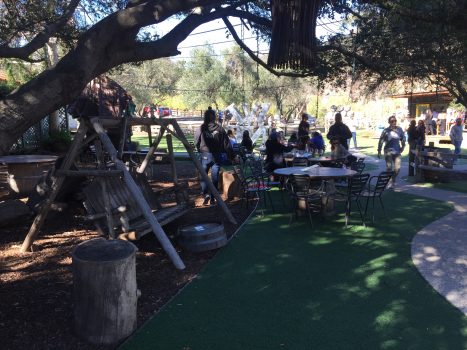 "I do not think that the quality of the wine is what creates the attraction of Malibu Wines. I think people come here for the atmosphere rather than the wine itself."

Open for everyone over 21.
If you close your eye and think about your "happy place" this might be exactly what you are picturing. Zach and Kevin are both in their 20's and are visiting from Atlanta, Georgia. Kevin told me that he enjoys the wine, but that he feels Malibu Wines attracts the younger crowd because of the environment. "It is just a really nice place to spend time at". It provides the perfect location and atmosphere for people who crave local social interactions.
Even though the average person is in their 20's or early 30's, this place is not just limited to the younger generation. Yvonne Jonason is in her sixties and has been a member of Malibu Family Wines since 2009. Being a member of Malibu family Wines allows her to get free wine tastings not only Malibu Wines, but at all of their separate locations, as well as exclusive members-only events. Yvonne says "It did not use to be so many young people here, this has happened over the last couple of years". She has been visiting the Malibu locations for years and have seen first-hand how the place has evolved into a popular social meeting place for young people "I just fell in love with the place and their member parties. The wine is not that great, but the atmosphere more than makes up for it" Yvonne explains. When visiting Tripadvisor.com some of the first comments have a headline saying "Wine tasting is average at best…" but if you keep reading they all end up with the same conclusion, "This is not the place for people who are even semi- serious about wine! One would go here more for the ambiance and the notion of sitting outdoors with a purchased bottle of wine." Malibu Wines is the perfect spot if you want to spend a day outdoors in a great social atmosphere. It has also become a very popular spot for big bachelorette parties and weddings. Definitely worth a try.