Vacation calories don't count. Find out whats cooking in some of the most unique farmers markets around the world.
It's early morning and the smell of fresh baked pastries fills the air, the vibrant buckets of Freesias and Gerbera Daisies line the aisles and the sounds of acoustic guitar and soft voices set the scene for the Santa Barbara local farmers market on a serene Saturday morning.
Where it all Began…
The first Farmers Market dates back to Egypt where farmers along the Nile River came to sell their fresh produce nearly 5000 years ago. Farmers markets back then served as primary historical versions of grocery stores for communities stretching far and wide. Transforming from informal gatherings to formal events in convenience to consumer locations, farmers markets still take pride in being defined as a place where goods are locally produced and where vendors sell their own products.
Farmers market now a global phenomenon; you can experience something different and unique just about anywhere.
Barcelona, Spain.
Uncertain of the exact origins La Boqueria Market in Barcelona Spain was born as a traveling market in the 1700's. It wasn't until the late 1800's where things became regulated, and architecturally it began to grow, building permanent stands for everyday vendors. Today you can find third and fourth generation salesman carrying on the family's tradition of bringing people together in what is now known as one of Barcelona's most emblematic markets.
Tokyo, Japan.
Tokyo, Japan hosts one of the largest farmers markets in the world called the Tsukji Market. While it's not the most environmentally friendly of markets, it stretches over nearly 60 acres and has roughly 1,700 vendors. Often referred to as a kitchen that can feed 12 million people, you can find anything from fresh fruits and vegetables, prepared foods and even clothing, however it is most known for its huge selection of fresh fish.
London, England.

The Borough Market in London is England's oldest fruit and vegetable markets, and recognized globally as one of the finest. It is Located in the Southwark neighborhood and has been operating at that exact location since 1755 when it first began. Other specialties include their handmade fresh bread and cheeses, which can be found, distributed through some of London's best restaurants. Feeding the core community the market has grown to house over 100 unique stalls, open to the public Thursday through Saturday.
Melbourne, Australia. 
Known as the largest open-air market in the Southern Hemisphere, Queen Victoria Market Melbourne or "Queen Vic" as the locals call it, engages all the senses. Covering two city blocks you can find anything from fresh fruits and veggies, meat and fish, to clothes and souvenirs. However they take the most pride in their organic produce, claiming they have the widest range of produce in all of Melbourne. Also if you happen to be there on a Wednesday, it is tradition to take part in the Night-market featuring live music, car shows, and 50 global vendors to make sure you can drink and eat your way around the world.
U.S.A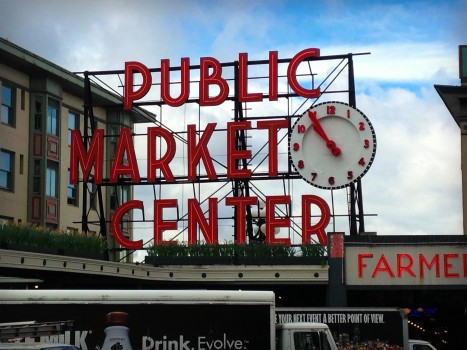 In the United States the earliest form of farmers market has been noted back to the time of the early settlers in Jamestown. While the idea of forming an actual grocery store was still emerging, the popularity of these informal farmers markets was declining. As the Great depression hit, more people economically concerned turned back to the idea of purchasing their goods from local farmers again and ever since the percentage of operating farmers markets has continued to grow.
While originating on the East Coast, farmers markets have been exceedingly successful in the West, ranging from Seattle's Pike Place Market, Redmond's Farmers Market in Oregon, Ferry Plaza Farmers Market in San Francisco and the Original Farmers Market in Los Angeles California.
Keeping it Local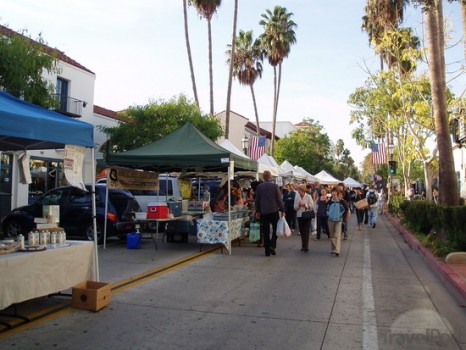 Santa Barbara's Farmers Market founded in 1983 is paradise to the senses. 130 members and growing, it is a place where local vendors come together and sell their organic seasonal goods and for all to gather, wander, nibble and chitchat while supporting the community. With eight market meetings six days a week you can't miss it!