The 1950's, a time period known for its innocence and simplicity. It was a time before television, and the civil rights movement. Families would spend their evenings huddled around a transistor radio, captivated by the voice of a radio host equipped with cheesy sound-effects. This scenario is played-out, since we have all heard it before, either from our parents or grandparents. Uphill, both ways, covered in snow…
Although undeniably cliché', the idea of the radio show seems to hold a special place in human history, including American History. Radio technology provided a channel of cultural information, to families isolated in rural areas, it provided a much needed window to the larger world. It changed the way people think, similarly to how technology changes us today. Radio had the power to unite even the most dysfunctional of families, into a temporary coexistence.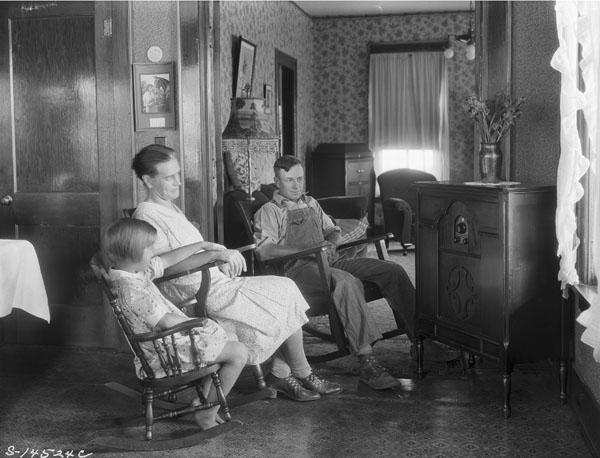 Today, with a younger generation raised by IPads and video games, there clearly seems to be a higher standard for stimulation. We are now shoulders-high in the digital revolution, and information is presented through newer media channels. Many people abandoned the traditional media channels for things like social media and websites. Despite this jump in technology, podcasts are taking the internet by storm. They function are like similarly to a radio show, or talk radio, except it is digital, rather than analog. A resurgence of the radio show is officially happening:
"Millions are downloading and listening to podcasts. It's the source of original material and growing ad revenue. Apple's iTunes has 1 billion subscribers, and advertisers are seeing dollar signs." -National Public Radio.
We consume so much content, flooded with nearly an infinite amount of options. Cars are slowly becoming equipped with internet capabilities, a change that many predict, will end analog radio as we know. Although we are shoulders-deep in the digital-age, is it possible the internet has left us overwhelmed, or even jaded?
Regardless of the inevitable effects of technology, there is no single media channel that is absolutely perfect. As every individual is a 'unique snowflake, it also true that everyone processes information differently. There are different cognitive learning styles, which are comprised of three categories; visual, auditory, and kinesthetic. Auditory tends flourish in music, and retain information with hearing and speaking.
Five benefits of podcasts:
1) Podcasts are free, but yeah, you do have to listen to commercials. They are also have low production costs, which makes them an exciting business opportunity.
2) They are simple. You can choose to stream or download them, either on your computer or hand-held device. Downloading them takes a matter of seconds, which can also eliminate the need for paper and text.
3) Podcasts are time-efficient. Let's face it, reading takes forever. Unless you are Good Will Hunting, or Bradley Cooper from Limitless, you probably find it difficult to find the time. Although, everyone has a different attention span, podcasts allow you to absorb more information in a shorter time period. If you enjoy reading, perhaps try supplementing your reading with audio-books, which are also a popular form of audio based information.
4) They personalize information. Much like the act of reading, radio gives the audience some space for the imagination. The listener can fill in the blanks, making it a unique and personal experience for every individual.
5) There's a podcast out there for just about everyone. Podcasts come in different sizes; they can be designed for a wide audience appeal, or small designed for small niche groups. With enough searching, you are bound to find the right slipper.
There are hundreds of thousands of podcasts out there. Plenty of them are hosted by mainstream media personalities like Bill Marr, Snookie and Stone Cold Steve Austin. But most podcasts are created by hobbyists and amateurs. NPR
Where to start? Here are some suggestions for new podcast listeners:
Radiolab – A podcast hosted by NPR, and widely considered the best produced podcast on the market.
Serial – A very popular podcast consisting of many different murder stories. The details of the story unravel naturally as the audience follows the investigation, which creates a disturbing look into the mind of past serial killers.
After exploring these two programs, perhaps you will be motivated to find podcasts that are geared toward your specific interests. It might take a month or so, but watch yourself hopelessly addicted. I personally enjoy listening to a wide variety of podcast, by my current favorites:
Wtf Podcast hosted by the neurotic self-deprecating Marc Maron. It's a great podcast for discovering new artists, a "taste-maker" as he calls himself. He hosts comedians, authors, musicians, directors, and all form of artists.
The Q&A with Jeff Goldsmith, this podcast gives an inside look into the creative process with Hollywood's best screenwriters, actors, and directors. This is my favorite podcast, because it is geared to my specific interest. This podcast has given me a 'behind-the-scenes' perspective on the creative process of filmmaking.
Star Talk Radio Show with Neil Degrasse Tyson, in which Neil, quite possibly the coolest guy ever, discusses Science and Pop Culture. This radio show is consistently blowing my mind.
You might be asking "who wants to listen to some guy talking? You could just binge-watch another television show? Let's face it, chances are, people are skeptical about podcasts at first, I certainly was.Now, I binge-listen to them. According to NPR, the reason why podcasts are so popular is the hosts. The quality of a podcast is so dependent on the personalities behind the microphone. Podcasts are an intimate experience, and the hosts will eventually feel like your real life friend. Becoming addicted to a podcast is a matter of finding which host resonates with you. They can inspire you, and they 'nerd-out' with you about your interests. Behold, the return of the radio show host has officially returned.